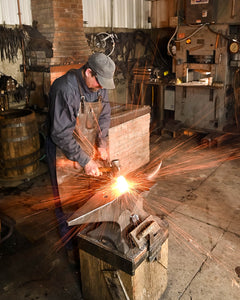 Meet Us At The Forge
Shadow Mountain Forge has been built on determination, curiosity, blood, sweat and @#$%*, but mostly laughs, dreams, and friends!  Lonnie Jensen purchased this company at the end of 2019. Our products are designed and forged to perform according to their unique applications. Whether it be on the hunting field, in the kitchen, or a day to day carry.
Lonnie has been in the welding and ornamental industry for over 30 years.  Custom knives and the patterning of Damascus have been his focus the past several years.  Leading up to this part of our adventure he has been grateful for the expertise he has gained from friends around the country. He has an incredible understanding of metallurgy. He is intrigued by the way various alloys will interact, and with this knowledge he can create a stunning piece. These hand-crafted pieces will also hold up to the demands of everyday use on a blade.